WASHINGTON, DC –
After a stinging comment from Congressman John Lewis on NBC's Meet the Press, in which Mr. Lewis said he did not believe President-Elect Trump was legitimately elected due to Russian interference, Trump took to Twitter this morning and lashed out at beloved UK department store John Lewis.
The department store, which opened in 1864 and is much admired for their heart-warming Christmas commercials featuring animals and kids, took a full-frontal assault from the President-Elect.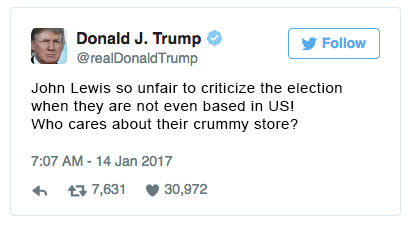 The president-elect continued on in 47 separate tweets disparaging various products found on the John Lewis website including comforters, kitchen utensils, candles, boots, strollers, books, luggage, yarn, refrigerators, men's blazers, slippers, and towels.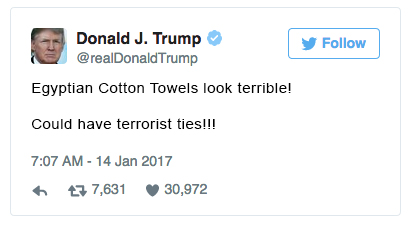 Apparently unaware that John Lewis does not have any stores in the United States, the president-elect also threatened the possibility of tariffs on the store's goods.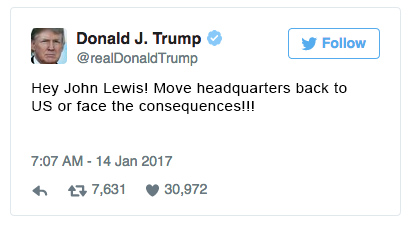 Although the department store was reluctant to comment, fearing more reprisals from the enraged president-elect, they did not feel that business would suffer as a result. A person at the company who declined to give their name said: "As a national retailer, our most important season is the Christmas season. And we do not expect this negative attention to significantly affect our bottom line for the first quarter, since of course we don't have any stores in the US. In fact, we believe our core customers would be inclined to look more favorably on the brand as a result of Mr. Trump's tweets."
The Trump transition team was not available for comment.
makeamericathebest.com
Your Trusted Source for Faux News