MONTENEGRO –
In a dramatic response to an affront to its Prime Minister, Dusko Markovic, by the US President Donald Trump, the tiny country of Montenegro today announced they were declaring war on the United States of America.
"To avenge our Prime Minister, the sovereign state of Montenegro, and the great history of our proud people, we hereby declare war on the United States of America effective immediately," read a press release put out by the Montenegrin parliament. "The outrage committed by the President of the United States in throwing aside our elected leader is a provocation we simply cannot ignore."
The encounter occurred during a meeting of NATO on Thursday as President Trump shoved aside the Prime Minister to get to the front of a group of NATO leaders and secure a prime position for the customary world leader photo.
Brazen Assault
Although the positions of the NATO members in the photo op are carefully negotiated months in advance, President Trump was said to be unhappy with his placement in the rear, and "vowed to get to the front no matter what it takes."
Witnesses said that the President moved quickly, distracting the Ambassador from Lithuania by dropping a handkerchief, and then using an underhand thrusting motion to grab the Prime Minister's arm and spin him to the left. Within seconds, the President had propelled himself into the center of the photo, where he quickly adjusted his jacket and prepared for the picture to be taken.
The President's brazen assault on the Prime Minister of Montenegro, despite the fact that it was the Prime Minister's turn to be featured in the front row, was an offense that the country's officials were unwilling to brook.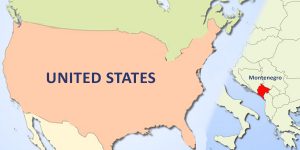 We Are Not Afraid
While the United States and Montenegro are both members of the NATO alliance, and have been allies and friends for decades, the government of the small Mediterranean nation known for its picturesque coastline and tourist destinations said they are honor-bound to respond to the travesty.
"Clearly, it was the Prime Minister's turn to be in front. For President Trump to presume that we would do nothing after this savage attack shows the contempt that he, and by extension, all Americans, feel for our nation," continued the press release issued by the Parliament.
Although the Montenegrin standing army is comprised of only 2,000 soldiers, compared to 1.5 million for the US, the nation's leaders were not concerned. "We fought the Ottoman empire in the 17th century and triumphed. We waged the first armed uprising against the Nazis during WWII and forced them from our lands. We do not fear the United States. We are ready for them. And we will prevail."
President Trump was unavailable for comment, but the White House released a statement saying that "the President was sorry for any offense taken by whoever was complaining from whatever country about whatever it was they were so bent out of shape about."

makeamericathebest.com
Your Trusted Source for Faux News