PITTSBURGH, PA –
In another stark reminder that public figures are not always who they pretend to be, there was another revelation concerning embattled US Representative Tim Murphy, who earlier this year was accused by an ex-lover of encouraging her to have an abortion.
In text messages obtained from the account of the Phillie Phanatic this week by Make America The Best, it was revealed that Representative Murphy, a self-declared Pirates fan, has been secretly rooting for the Philadelphia Phillies since 2007.
"Shocking. That's All I can Say," declared Pittsburgh Journal sports columnist Rooster Myleven. "I used to see him at the Pirates games with all the gear on. He would stand up and cheer with the best of them. You thought that he was a true Pirates fan and bled black and gold – when I saw the text messages, I couldn't believe it."
"It really does start to make you question everything about the guy."
Public Pirates Supporter
Publicly, Representative Murphy espoused to be a Pirates fan. He even Tweeted Pirates trivia as recently as last month: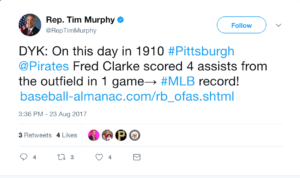 Honk Honk Honk Honk
However, in a series of text message exchanged with the Phillies mascot, the Phillie Phanatic, Representative Murphy revealed his true colors.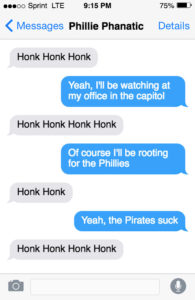 Rep. Murphy mocked current players, and even disparaged Pirate greats from previous years: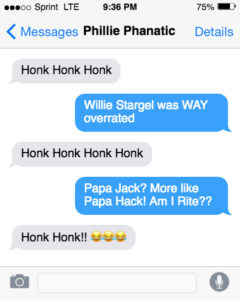 Never Would Have Voted For Him
Many voters in Pennsylvania's 18th District now feel cheated, and say they never would have knowingly voted for someone who was a fake Pirates fan.
"Yeah, I get the whole abortion thing, and the alleged abuse of people who worked under him. That's not good. But pretending to be a Pirates fan? Well, that is beyond the pale", said Al Brekowis who runs a bakery on Lincoln Avenue in Pittsburgh's Bellevue neighborhood.
"And cavorting with the Phillie Phanatic on text messages? I can't even tell you how twisted and messed up that is," said Mr. Brekowis making a face. "Really creepy."
"I mean, if you're gonna do that, why don't you just go all the way and root for Cincinnati? Sheesh."
makeamericathebest.com
Your Trusted Source for Faux News