WASHINGTON, DC –
In an apparent attempt to put some distance between himself and his son-in-law Jared Kushner, who was present at a meeting involving Russian diplomats in December, President Trump today swore he hardly even knew the guy, much less trusted him as a confidante.
"Honestly, if you asked me, I couldn't pick him out of a lineup," the President said of the man who is married to his daughter, and works in an office two doors down from him. "He was a low level advisor, and apparently a serial liar from what I've been told."
When reminded that Mr. Kushner is the father of three of his grandchildren, the President said "if that's true, he didn't really make an impression on me."
Same Name As The Subway Guy
"For starters, I would never associate myself with someone who has the same name as Jared from Subway. Obviously that name is associated with some heinous acts, and I would never let a person into my administration with that terrible name," the President stated.
When shown a recent photo of Mr. Kushner, who has been the President's son-in-law for 8 years and routinely accompanies him on weekend trips to Mar-A-Lago, the President did not recognize him. "He maybe looks like this guy who hung around the office a lot drinking coffee."
"I think he was a volunteer. You could tell he was there for the free danishes," said the President. "As to what kind of danishes he ate, I couldn't tell you. They were not memorable."
You Would Have To Point Him Out To Me
Although Mr. Kushner has repeatedly pledged his loyalty to the President, and refuses to criticize him even when members of the administration question his conduct, President Trump insisted he had no idea who he was.
"If Jared Kushner walked into this room right now holding two of my grandchildren, looked me in the eye and shook my hand and said 'hello, I am Jared Kushner', I would have to say: 'Hello, sir. We have never met before. Who are you and why are you pretending to know me?" the President said.
When told that Time Magazine referred to Jared Kushner as 'Trump's Mr. Everything' and his most trusted advisor, the President responded: "You would have to point him out to me. Maybe I would recognize him. I don't know. But probably not."
Taking To Twitter
The President later employed social media in an effort to convince the American public that he had no idea who the man was that he spends every holiday with: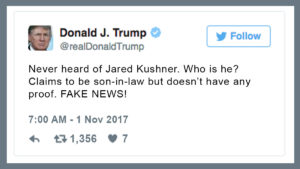 Awhile later, the President clarified his earlier tweet: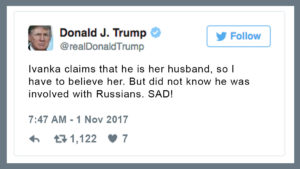 Make Sure You Check ID's
As the President boarded Air Force One later that afternoon, he begrudgingly allowed Mr. Kushner to follow him, but pretended to look the other way as if he didn't see him. Said the President to one of the flight attendants, "make sure you check everyone's ID that gets on this plane! I don't know who a lot of these people are!"
When asked for a comment as he climbed the stairs to board the plane, Mr. Kushner shook his head, sighed deeply, and proceeded to dig for his wallet.
makeamericathebest.com
Your Trusted Source for Faux News