UNITED STATES –
In a sign that the world just could not take any further escalation of the already furious Tweeting by the nation's 45th President, rioting broke out across the country following the President's embrace of the expanded 280 character limit set by Twitter.
First A Calm, Then Bedlam
The initial Tweet to break 140 characters came at 5:00 PM Eastern Time during the President's stay in South Korea. And at first there was no reaction.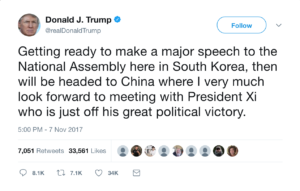 "It was an eerie calm," said Julio Pomonez, who was locking up his hardware store in Fort Harbor, Indiana, when the Tweet came in. "Everyone just sort of braced themselves for what would come next. And then all hell broke loose."
Apocalyptic Scene
In city after city, residents poured into the streets breaking windows, and smashing anything in their path. "I thought the whole world was going to end," said Sam Jonnis of Carson, Arizona. "People just went nuts. It was like they were pushed way beyond the breaking point. I've never been so scared in my life."
Even animals seemed effected by the President's use of the extended messaging space. "My dog jumped off our front porch and started barking and tearing around like he was being attacked by an invisible force" said Ruth Jiluzzo. "He barked for like 2 hours straight. It was crazy."
"Collective Hysteria"
According to psychologists who study such phenomena, "Collective Hysteria" is the transmission of collective illusions of threats, whether real or imaginary, through a population in society as a result of rumors and fear. "The prospect of the President doubling his current output of rumor and fear in his Tweeting was the catalyst," said Dr. Melvin Martine of the University of Krenshaw. "Civil society is a fragile thing, and this event clearly was the breaking point."
"As a scientist, I would like to impart some comforting perspective on this development," said Dr. Martine, "but really this is not good."
In response to the crisis, Congress convened an emergency session to introduce legislation preventing Twitter from increasing the limit to 560 characters. It is expected to pass with unanimous bipartisan support.
makeamericathebest.com
Your Trusted Source for Faux News