WASHINGTON DC –
In a dramatic statement to a group of reporters gathered at a pre-rally press conference, President Trump today called for the Special Prosecutor to open an investigation into the President of the United States to find out whether he is part of a vast "deep state conspiracy".
Pointing repeatedly at himself during the three hour speech that covered topics such as whether The Bachelor is as good as The Bachelorette, and the whereabouts of Barney The Dinosaur, The President implicated himself as part of a scheme to overthrow himself.
Man At The Top Must Be At The Bottom Of This
"How can it be that the President of The United States has no idea what is going on in the deep state conspiracy?" he wondered. "This man appointed all the people in charge at the FBI and Department of Justice," he said. "And yet he claims he doesn't know anything? What is he hiding?"
"I see him everywhere I go – in mirrors, reflected in car windows, in photos. I have told the Secret Service many times about this guy following me – but they act like I'm the crazy one! Deep State!"
No Collusion
The President later went on to say in a series of tweets that there was no collusion between his administration and the President, whom he labeled "President Deep State":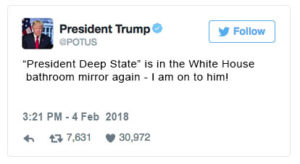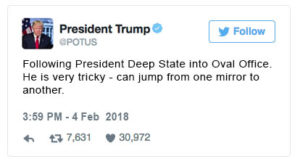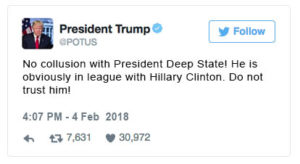 The President also expressed frustration with the Secret Service for allowing 'President Deep State' full access to the White House and Mar-A-Lago, which he said was another indication of the conspiracy.
Will Track Down The Culprit Himself
After realizing 'President Deep State' was following him everywhere he went, President Trump decided to take matters into his own hands, and enlisted the help of OJ Simpson in tracking him down to bring him to justice.
"OJ and I are very good friends. The best friends. He told me that he knows how to capture slippery characters like President Deep State," the President later told a Fox News reporter. "In fact, he was also followed by a similar Deep State OJ who committed those terrible murders back in the 90s. So, you can see how deep this conspiracy is."
A spokesman for OJ Simpson said that rumors of the two men shopping for gloves are unfounded. And that regardless, the likelihood of finding gloves that were too small for the President's hands was not even going to happen anyway, even if they had checked 15 stores and looked all afternoon.

makeamericathebest.com
Your Trusted Source for Faux News