BEIJING –
Using the massive 1.2 trillion dollars of US treasury bills it owns as collateral, the Chinese government today announced it will step in and purchase thousands of American farms that are going bankrupt due to the ongoing trade war waged by President Trump.
As prices continue to drop for farmers due to retaliations against US tariffs, China expressed their willingness to stabilize the American economy by purchasing the deeds to tens of thousands of farms.
The Chinese government will allow farmers to continue living on the land as long as they pay rent at fair market value rates.
Glad To Be Rid Of Financial Pressure
"At first I was really skeptical of the Chinese offer," said Myron Dallworthy of Caleb, Iowa. "But when I looked closely at it, I realized I'll have enough money to pay off all my loans, send my kids to college, and get a new car."
"Plus, it sounds like I'll earn more working the land for the new owners anyway. What's not to like?"
"I wish the Chinese had come along years ago," said Jim Stellsgaard of Topeka, Kansas. "Would of saved me a lot of headaches."
Farmers Will Be Permitted To Speak English
Li Hon, the Director Of Special Investments for China's ruling party, said the Chinese have no plans to force farmers to learn Mandarin.
"China recognizes that Americans have a shared culture and language, and we have no plans to force superior Chinese culture on farmers who work on our land," said Mr. Hon. "If American farmers want to continue to speak their gibberish language, China will not stand in their way."
Street Signs To Include Chinese Characters
Although local schoolchildren will continue to receive instruction in their native English, street signs in farming communities will now be in Chinese to help the new owners navigate their way thru the vast Midwestern countryside.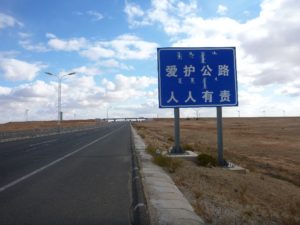 "While GPS makes it possible to locate newly purchased land for official visits," Mr. Hon said, "it will be most helpful to have street signs translated to Chinese."
"This will assist ministers to learn the names of local roads surrounding Chinese land," Mr. Hon continued. "And, of course, as you can imagine, we want to avoid any misunderstandings about the addresses of Chinese property during this very sensitive time of ownership transition."
No Comment
When asked whether the trade war was having an effect on US sovereignty, the White House emphatically stated there has been no collusion with China, Russia, or any other foreign power now in control of large sections of US territory.

makeamericathebest.com
Your Trusted Source for Faux News.