DESMOINES, IA –
Saying they had no wish to derail the campaign of El Paso native and 2020 presidental candidate Beto O'Rourke, Iowa based mexican-themed restaurant Carlos O'Kelly's nonetheless filed a lawsuit in federal court today alleging copyright infringement by the former Texas congressman.
The Pleading, filed in the 9th Circuit Court, asserted that:
"Plaintiff Carlos O'Kelly's is a family-owned restaurant known and recognized in six states for its mexican-style hospitality and food that is both delicioso, and a fiesta for the mouth.

By using a name similar to our business trademark, candidate Beto O'Rourke has exploited the notoriety and success of our cuisine, and attempted to capitalize illegally on Carlos O'Kelly's reputation for made from scratch fresh guacamole, and our signature Naked Nachos Grande appetizer."
Steve Grolschmeir, manager of the chain's Dubuque location, was busy making preparations for "Basketball + Queso Madness" Saturday for the NCAA Men's Basketball tournament when he heard about the lawsuit. "I understand why the company had to take a stand," he said. "If you don't protect your trademark, pretty soon it becomes like Kleenex or Google, and everyone will use it."
A Copyright At Issue
"Mr. O'Rourke's name has definitely caused confusion in the mind of the consumer," said Mr. Grolschmeir. "Last week I had a customer who asked if Carlos O'Kelly supported universal basic income? Granted, this was after several of our Three Amigos Margaritas, but it's uncomfortable for the wait staff to have to correct customers."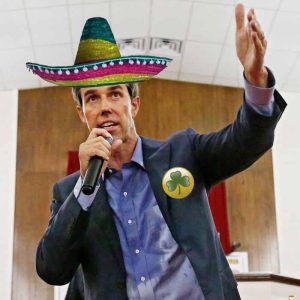 Although the restaurant would not comment on whether they might reach a settlement with Mr. O'Rourke, a spokesperson for the company said that the public should continue to expect the same O'Mazing service from Carlos O'Kelly team members as the case wound its way thru the courts, and that during this time, the Cheesecake Empanada will continue to be worth a thousand Yums.

makeamericathebest.com
Your Trusted Source for Faux News.