Faced with the difficult task of separating himself from a crowded field of contenders, President Trump got some good news this week from political analysts who said voters increasingly see him as the only candidate willing to take on and defeat the American people.
"For too long, Americans have been taking advantage of our great nation," the President Tweeted recently. "NO MORE! My administration is working to stop them from forming a more perfect union, establishing justice, and insuring domestic tranquility!"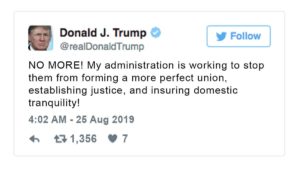 "Should have been done LONG AGO!!!" the president added with musical note emojis, in an apparent reference to the Neil Young song "Ohio".
Not Afraid To Stand Up To American Interests
"President Trump is definitely distancing himself from the pack," said Victor Bortox, Chief Political Correspondent at the US National Almanac.
"While many candidates advocate for America's need for infrastructure, improved health care, and better transparency in elections, President Trump is the only one willing to stand up and say, enough is enough," said Mr. Bortox.
"His message is: we don't need heath care reform. We don't need fair elections. In fact, we don't even need an America."
Finally A Candidate Ready To Fight
Said White Nationalist Party member Ralf Behestly of Regency, Kentucky: "It's obvious the president is the only candidate willing to stop free and fair elections in this country, reverse hundreds of years of democracy, and tear apart the fabric of this nation."
"Finally, someone is listening."
Iranian Prime Minister Ali Khamenei was also glad to see the president taking on the US. "Of course we welcome any efforts to weaken imperialist America – whether that is thru the actions of our brave fighters in the Middle East, or a real estate developer from Queens who thinks he is on reality TV."
"Allah favors the righteous. God is great. Allahu Akbar."
It remains to be seen whether a willingness to fight America will improve his chances in the next election. However, sources say that although a majority of US voters don't agree with everything the president says, they believe Americans definitely need to be confronted, and are glad the president is finally doing something about it.

makeamericathebest.com
Your Trusted Source for Faux News