NEW YORK, NY –
In an gesture of camaraderie toward the American middle class, a consortium of billionaires released an instructional book for those learning to do more with less in today's economy. The book, titled "Guide On How To Be Poor In The United States," contains helpful tips on how Americans can cope with bleak job prospects, increased hours for less pay, and generally how to get along without money.
Jolly Good Show
The idea began as a casual conversation between a few billionaires on a yacht sailing in the waters off Antigua. Sir Robert Helmslicker, who is credited with the title, enlisted a TV writer to do a rough outline for the book based on his ideas. The draft was so uproariously funny that Mr. Helmslicker immediately commissioned the finished manuscript.
In the guide, readers are instructed in the finer points of locating nearby Goodwill Stores without access to the internet, dumpster diving, outrunning police after shoplifting, cooking methamphetamine, marketing yourself on Backpage, and other strategies for coping in America without a source of income.
Finally Some Advice I Can Use
Reception for the book has been positive, with many Americans finding helpful tips in its pages. "The people who wrote this are the richest and smartest in the world, so I'm definitely going to put these tips into practice," said Rich Bolanges, of New Orleans. "I have not been maximizing my dumpster diving. And I really never considered cooking meth or prostitution either, but I guess if that's how billionaires think, then I'm willing to give it a shot."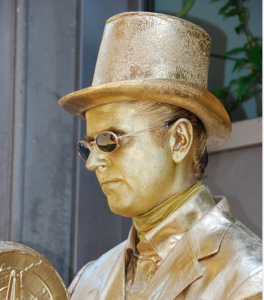 Richard Sallingher, a street performance artist, took away a lot of helpful instruction. "I found this book very informative. Typically I don't have to run from the police, but the next time I do, I'm going to use the self-affirmation suggested by the book "I can run faster than these cops" to boost my speed."
A bonus chapter entitled "How You, Too, Can Become A Billionaire", provides tips for the average person on how to become rich by investing millions of dollars in hedge funds, or purchasing large companies through hostile takeovers. "You see a lot of crap out there about how to better yourself," said Mr. Sallingher, "but this was written by people who know what it's all about. I'm grateful they took the time, really."
An Instant Classic
Copies of the book have been shared at dinner parties and social events in New York, London, and Paris, where dinner guests frequently quote entire paragraphs to the howls and screams of their fellow diners. Gold leaf was added to the second edition printing, and it remains a featured volume in personal libraries of billionaires around the globe.
According to someone present for the original idea on Mr. Helmslicker's yacht, "this is the single funniest thing we've ever done. I don't think we'll ever have a laugh as good as this one. We laughed for a week – across the Atlantic all the way to the Seychelles. My stomach still hurts. Guide To Being Poor. Great stuff."
The "Guide On How To Be Poor" is available on Amazon, Ebay, and basically every single county in the United States.
makeamericathebest.com
Your Trusted Source for Faux News