UNITED STATES –
There was big news in the automatic voting machine industry this week: a Russian manufacturer has reportedly secured a large contract with several states to supply 1000 voting machines for the upcoming 2018 US midterm elections.
The company, Amerikan Voting Machines, has promised to deliver ballot scanners to many of the key precincts that will factor prominently in the election of the next congress.
Special Features
The new machines scan the marks made by voters on paper ballots and tabulate the totals, sending those results directly to each state via the internet. The scanners made by Amerikan Voting Machines also have the added feature of a shredder which shreds the original paper ballot, thereby making recycling easier.
Director of Sales and Vice President Vladimir Korchenko was bullish on the company's future in the US. "Amerikan Voting Machines is committed to delivering quality voting machines at cost-effective price to our customers. And we are also glad to help environment with our patented ballot-shredding technology, which destroys ballot into tiny pieces."
Filling A Need
The voting machines, which are subsidized heavily by the Russian government, are 50-60 percent cheaper than those offered by US companies. Milton Schnatz, President of the voting machine industry trade group that represents companies in the US, said many manufacturers were caught off guard by how quickly the Russians were able to gain market share.
"Amerikan Voting Machines made a lot of in roads in a very short time. Secretaries of State are always looking for ways to reduce their budget and take advantage of innovations in the private sector, and apparently the auto-recycling feature of these machines is filling a need that the rest of the industry did not recognize was there."
Let Us Stay All Week
One Secretary of State who agreed to speak off the record, praised the new machines as "cutting edge" and well made. "The Russian sales person flew us out to their showroom in Las Vegas, put us up at the Mandalay Bay, and walked us thru all the capabilities of their machines. We were skeptical at first, but they let us stay all week in case we came up with any additional questions, and they always had an answer."
"Honestly, with the price being so low, it was a no brainer. We can now allocate more of our voting budget to attending national conferences, like the one coming up in Palm Beach this winter. "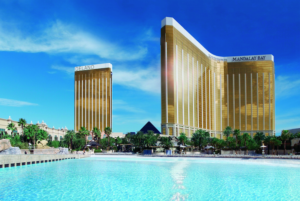 "Heck, if the Russians want to subsidize our elections, that can only be good for America."
Not Much Worse
The Russian company, which has purchased a three story office building across the street from the US Government Accountability Office in Washington, has been busy setting up meetings with governors and mayors around the country. "We very much wish to meet with governors of all the states that allow voting," said Mr. Korchenko. "Our product represents the best of Russian science, and we want everyone in the US to have this great technology." Amerikan Voting Machines is projecting a 300% sales increase in their next fiscal year.
Asked if it's possible the Russian machines might report false vote totals, the Secretary of State we interviewed said he doubts it. "Besides, the whole political system in the US is bought and paid for by billionaires anyway, so to be honest, if we elect a few Russian candidates to Washington, how much worse can it be?"
The 19 states receiving machines are set to take delivery in early October.
makeamericathebest.com
Your Trusted Source for Faux News