JUPITER, FLORIDA –
History is filled with bright and promising characters who, through no fault of their own, were overshadowed by their more talented and famous siblings. Bobby Kennedy, Raul Castro, Frankie Jonas, and Gummo Marx are just a few who were upstaged by their charismatic brothers.
So, too, there are otherwise first rate golf courses that can be overlooked when competing with their sexier sister courses.
Although billed as a masterpiece in golf course design and situated just north of trendy West Palm Beach, the Trump National Golf Club in Jupiter, Florida, sadly appears to be one such course.
39 Visits To Bedminster
Since being elected to the nation's highest office, the President has been busy visiting his many properties, including a whopping 39 visits to Trump National Bedminster, his golf club in New Jersey. He has also made the rounds to many other holdings, including the famous Mar-A-Lago in Palm Beach (25 visits), and Trump International West Palm (13).
Meanwhile, utterly uninteresting to the man who possesses it, Trump National Golf Club in Jupiter languishes in the sun, unvisited and unloved by the leader of the free world.
Golf Club Might As Well Be On The Planet Jupiter
Employees of Trump National Jupiter have watched woefully from the sidelines as, week after week, Mr. Trump bathes his Presidential spot light on other properties. He has visited his golf club in Jupiter only once since taking office.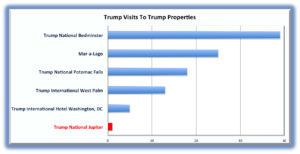 A Lifetime Of Memories
Designed by famous golfer Jack Nicholson, Trump Jupiter feature deep pot bunkers, a uniqueness of appearance, and a certain challenge to golfers who find themselves within their domain.
As the website promises:
Membership at Trump National Jupiter provides a lifestyle of uncompromising personalized service, luxurious amenities and attention to detail that creates a lifetime of memories.
Yet the stalwart corp of greenskeepers, chefs, hostesses, valets, and hotel workers wait in vain for another visit from their benefactor.
"It's getting to the point where we all think we did something wrong," said a maintenance worker who asked to remain anonymous. "I mean, did someone disrespect him during his one visit? I know I certainly didn't. I wish he'd just come out and say so. It's killing us."
A busboy working in the "Men's Grille" restaurant was similarly dismayed. "I thought we were all part of the Trump family. At least that's what they tell us. And here he can't even take time out to stop by? It would be a big boost for morale, you know?"
Search For The Guilty
Indeed, an unofficial investigation to uncover the employee who upset the President has been underway for some time.
Suspicions have ranged from inattentive housekeepers, to lackadaisical valets, and prep cooks who slice their vegetables irregularly.
"Everyone has their opinions on who offended Mr. Trump," said a coat-check attendant quietly. "Every once in awhile someone gets let go, and then there are whispers that they were the ones. It's getting to the point where you can't trust nobody here."
As the other employees of the Trump National Golf Club Men's Grille doggedly persevered with their duties in preparation for the lunch rush, the busboy looked out the window, surveying the 18th green. "Sometimes you start to wonder, has he forgotten all about us here at Trump Jupiter?"
A golf course, its staff, and indeed a nation, await the answer.

makeamericathebest.com
Your Trusted Source for Faux News