BROADWAY, NY –
After a disappointing take at the box office and multiple distractions during a challenging opening night, the producers of the gun-friendly musical "Burr" decided to call it quits and closed the show after a one day run.
The production, a country music-inspired homage to the central character Aaron Burr, extolled the virtues of owning guns and using them to defend yourself against immigrants with crazy ideas like Alexander Hamilton, who was shot dead by Burr during a duel in 1804.
Questionable Marketing Tactics
"In hind site, hiring pickup trucks to drive around Times Square with confederate flags probably wasn't the best idea," said Marvin Biangolo, Brand Strategy Liaison for the PR firm Footlights Inc. "We were hoping to capitalize on the ground swell of support for the second amendment, but apparently a lot of people were just plain offended."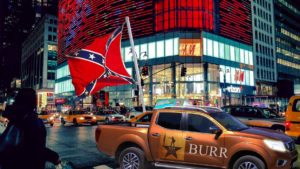 Fistfights In The Lobby
A scene in keeping with the raucous times of Aaron Burr's life developed before the show even started, as protesters clashed with each other over gun rights in front of the lobby bar of the Robert Moses Theater. Two men were sent to the hospital for stitches from a broken bottle, and several lobby ropes were severely damaged.
A group of white nationalists also stormed the concession stand during intermission when they found out that American cheese was not an option as a condiment for nachos, causing the producers to call in the police.
Wouldn't Be Caught Dead In NYC
"I think the main miscalculation in all of this," said Executive Producer Sly Silverstein, "was the belief that the target audience for this show would even set foot in New York, let alone come to see a musical theater production."
"Songs like 'You'll Be Back-Stabbed', and 'Guns And Ships, But Especially Guns', tested well in focus groups. But if the people don't come out to the theater to see the show, it's not going to matter how good the songs are," he remarked.
Although the New York run was a bust, the producers hope to offset any losses when the show tours parts of the rural south and northeastern US later this year. "Of course, we'll have to re-cast some of the parts played by minority actors in the production," said Mr. Biangolo. "But with any luck, we'll more than make up for the show closing early."
"And then some," he added.

makeamericathebest.com
Your Trusted Source for Faux News