WASHINGTON, DC –
Chafing under years of scientific reporting on the catastrophic effects that cigarette smoking has on human health, President Trump today announced that "contrary to what fake news would have you believe, cigarettes are definitely not bad for your health. In fact, they are actually very good for you."
Smoking his way thru the press conference to demonstrate that cigarettes are not harmful, President Trump railed against the "phony science and lying media" that identified cigarette smoking as the nation's number one killer.
"How bad can they be?" said Mr. Trump us he lit up a KOOL menthol 100. "Isn't tobacco just a plant? A lot of people eat vegetables – they don't get lung cancer. And how about candles? We burn them all the time. Why isn't someone doing a study on them?"
Took Up Smoking Last Week
The President, who is not known as a smoker, said he started smoking recently after seeing a news report on CNN about the number of deaths in the US each year caused by tobacco use.
"Phony CNN claimed that over 400,000 people die each year in this country from smoking. If that were true, wouldn't we see dead people everywhere? Where are they? There should be hearses driving all over the city if there were that many people dying. Fake news!"
Tobacco Companies Agree Smoking Is Bad For You
Although all major tobacco companies have admitted cigarette smoking is hazardous to your health, and run advertising alerting the general public that it kills 1,200 people each day, the President remained unconvinced.
"I know lots of people who smoked all the time thru the 70's and 80's. You know what? Most of them are still alive," said the President. "Sure, some have died from lung cancer and other things, but did you know you can get lung cancer from a toilet seat? You won't hear that from the fake news outlets, but it's true."
Cancer From Toilet Seats
While the President did not explain how cancer could be transmitted from toilet seats to humans, he may be referring to a message received on his twitter account from "@1776_Guy" claiming that MSNBC was suppressing a story about the subject.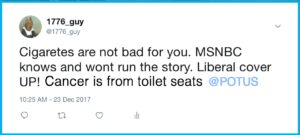 When reached for comment, White House Press Secretary Stephanie Grisham stated: "you heard what the President said. If MSNBC is sitting on a story about the real cause of cancer coming from toilet seats, that is something that you should take up with them."
Precautionary Measures
When reached via a phone line reserved for national health emergencies, the Surgeon General explained to the President that it's not possible to contract cancer from a bathroom. However, as a precautionary measure, all toilet seats will be replaced in the West Wing on the President's orders. Also, a separate bathroom will be installed for use by Melania in the first family's private residence, effective immediately.

makeamericathebest.com
Your Trusted Source for Faux News