SESAME STREET, NY –
With an eye toward introducing the concept of cryptocurrency to young viewers, and possibly creating a new global monetary vehicle for the storage of wealth, Sesame Street today announced the creation of Bertcoin, a new digital currency.
Like many companies that have watched bitcoin and other internet currencies take off, Sesame Street had been toying with the idea of launching its own, and believed that the time was now right for Bertcoin.
Banker Bob, Director of Sesame Street Cryptocurrency Development explained: "our focus group research has told us that people see Bert as very trustworthy, especially in connection with finances, and money in general. For instance, when consumers were asked if Bert was someone they would feel comfortable holding their money, 99.9% responded that they would."
"Our extensive brand recognition will allow us to leverage Bertcoin across all markets, and establish it as a new form of payment that many people will see as a reliable alternative to existing options."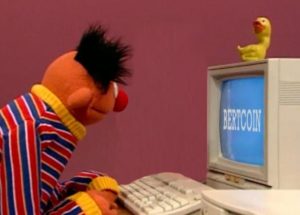 Similar To Bitcoin
The new cryptocurrency, which is currently being mined by Bert's friend, Ernie, on their home computer, will resemble many of the existing products on the market.
"We have a large staff of characters that, frankly, have some time on their hands in between shooting episodes. So, we've put them to work developing Bertcoin. Big Bird is handling social media. Oscar the Grouch is in charge of compliance. And Cookie Monster is managing investor relations."
Not Without Risk
Like other cryptocurrencies, Bertcoin will not be regulated by any governments, and investors who purchase them will not have the protection of federal deposit insurance as they do in traditional banks.
"We tell people who are interested in purchasing Bertcoin to consult with their financial advisors," said Mr. Bob. "Ernie has installed all the latest virus protection software, and we have full confidence in the soundness of these electronic transactions. However, as with any investment, there is always an element of risk."
Sky Is The Limit
As to the future of Bertcoin, Banker Bob was hesitant to make any predictions.
"Really we have no idea how big this will be. If people are willing to buy and sell Bertcoin with actual dollars, technically, there's no reason it can't become the dominant global currency of the 21st century."
The new Bertcoin exchange will launch in early 2018. The currency will be honored in all shops on Sesame Street including the laundromat, Mr. Hooper's store, and Luis and Maria's Fix-It shop.

makeamericathebest.com
Your Trusted Source for Faux News